Placentia Door Replacement
Set your home apart, create a welcoming front entry, or expand your home into your backyard with Placentia door replacement services by OC Window Replacement!
Your local Placentia, CA door replacement company, we offer a vast selection of doors for all kinds of homes, condos, and apartments. We only install doors constructed with the same high-quality materials and standards as the windows we deliver.
Whether you are looking for an entire home door and window remodel or are looking to add a layer of security to your front door, we have the right products, solutions, and services for you.
Trust the experts at OC Window Replacement to deliver excellent front door replacement that truly sets the stage for your home.
Call OC Window Replacement at (949) 288-4288 for a Free Consultation & Estimate!
Our Standard & Custom Doors
Our with selection and custom options can deliver the perfect replacement doors for your home!
Choose from a variety of replacement and new construction solid doors available in smooth, pre-painted smooth, finished stainable wood grain, pre-finished wood grain, and textured finishes. We have tinted and energy-efficient options if you prefer the look and light that a glass door provides while helping you reduce heating and cooling costs.
Fall in love with our extensive selection of custom colors, custom stains, blinds, and decorative glasses.
Orange County is buzzing about our residential door installations. One of our amazing doors may have caught your attention like these:
Entry Doors
French Doors
Patio Doors
Sliding Doors
Energy Efficient Low-E Glass
Blinds Between the Glass
And More!








We would love to discuss the best front door replacement and exterior door replacement solutions available to you and how we can best fit your needs, building aesthetic, and budget. Speak with one of our Placentia door replacement specialists for a free consultation and quote. Our variety of options makes energy-efficient doors and windows a possibility for every home.
Slim Frame & Frameless Folding Doors
Enjoy an unobstructed view with new frameless folding doors! Easily secure your home with these dual-pane, energy efficient, and environmentally friendly doors that provide you a virtually seamless view of the great outdoors.
Our frameless and slim frame folding doors feature benefits such as:
Weathertight Seals
Rollerless Functionality with 90 degree pivot
Robust Glass
Sidelock System for Ease of Locking
Unlimited Panels
Custom Colors for Home Decor Matching
We would love to show you how you can better extend your home living space into the luxury of the outdoors with frameless folding doors. If you have a patio, balcony, or other living area that could be enhanced with a seamless view, we can make your dream a reality.
For All Home Types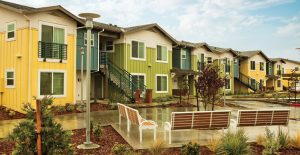 Single-family homes aren't the only ones who need door and window replacement in Orange County. Every home type deserves attractive, superior doors. Our specialists not only provide you with the right products for your home, we also provide professional door installation to ensure an attractive and secure finish, as well as proper functioning of the door and lock mechanisms.
The security of your commercial residential property is as important as protecting your home. Installing theft resistant doors will allow landlords to reduce their insurance rates and improve their resale value.
We would love the opportunity to explore various solutions to your door and window replacement needs. OC Window Replacement is the Placentia door replacement company you need whether it's an exterior door, a sliding glass door, a French door, an entry door, or an impact door.
Door Replacement Specialist
Let OC Window Replacement assist your home upgrade with professional window and door replacement services.
When improving your home, our door and window replacement experts are committed to providing high-quality customer assistance and careful attention to details with our excellent products and services.
Call OC Window Replacement at (949) 288-4288 for a Free Consultation & Estimate!